In the latest edition of the Ontario School Library Association's Magazine - The Teaching Librarian - our President, Joanne Sallay, interviewed the Right Honourable David Johnston, the 28th Governor General of Canada, in her column The Buzz. Read on to learn his advice on how to inspire and cultivate a growth mindset of innovation in today's youth. Don't forget to check out his new national program - Ingenious+ Youth Innovation Challenge - for Canadian students 14 – 18 years old, hosted by Rideau Hall Foundation in partnership with JA Canada. For any teenagers looking for an enriching project to work on over March Break, the deadline has been extended to March 27, 2022.
Article as seen in January 2022 issue - Innovation @ your library:
Innovation in our country and how to plant the seed of interest in students to grow into great thinkers and problem solvers is on the minds of many leaders, teachers and parents. Amongst this group of stakeholders includes the Right Honourable David Johnston, the 28th Governor General of Canada (2010 to 2017), who is deeply committed to cultivating a growth mindset of innovation in today's youth.
When this issue's theme was proposed, I immediately thought of the 2 books Mr. Johnston co-authored with Mr. Tom Jenkins, Ingenious and Innovation Nation, published in time to celebrate Canada's 150th birthday. When I first read the adult title and young readers' edition, I knew these were books to save and share with my children when they were old enough to learn from them. Serendipitously, in the spring of 2017 I had the opportunity to meet Mr. Johnston while attending a fireside chat on youth and innovation to celebrate the launch of the SHAD program at Ryerson University.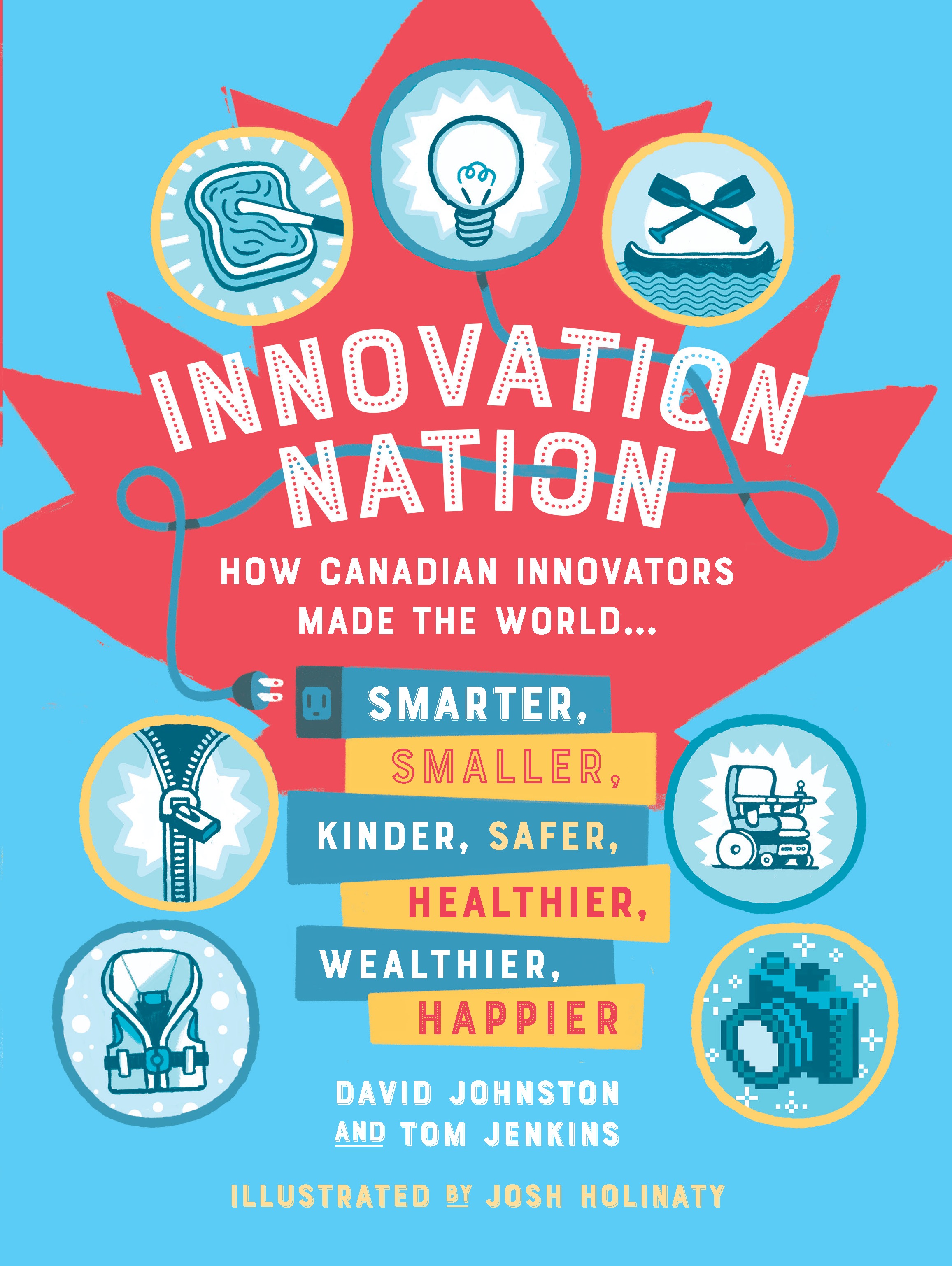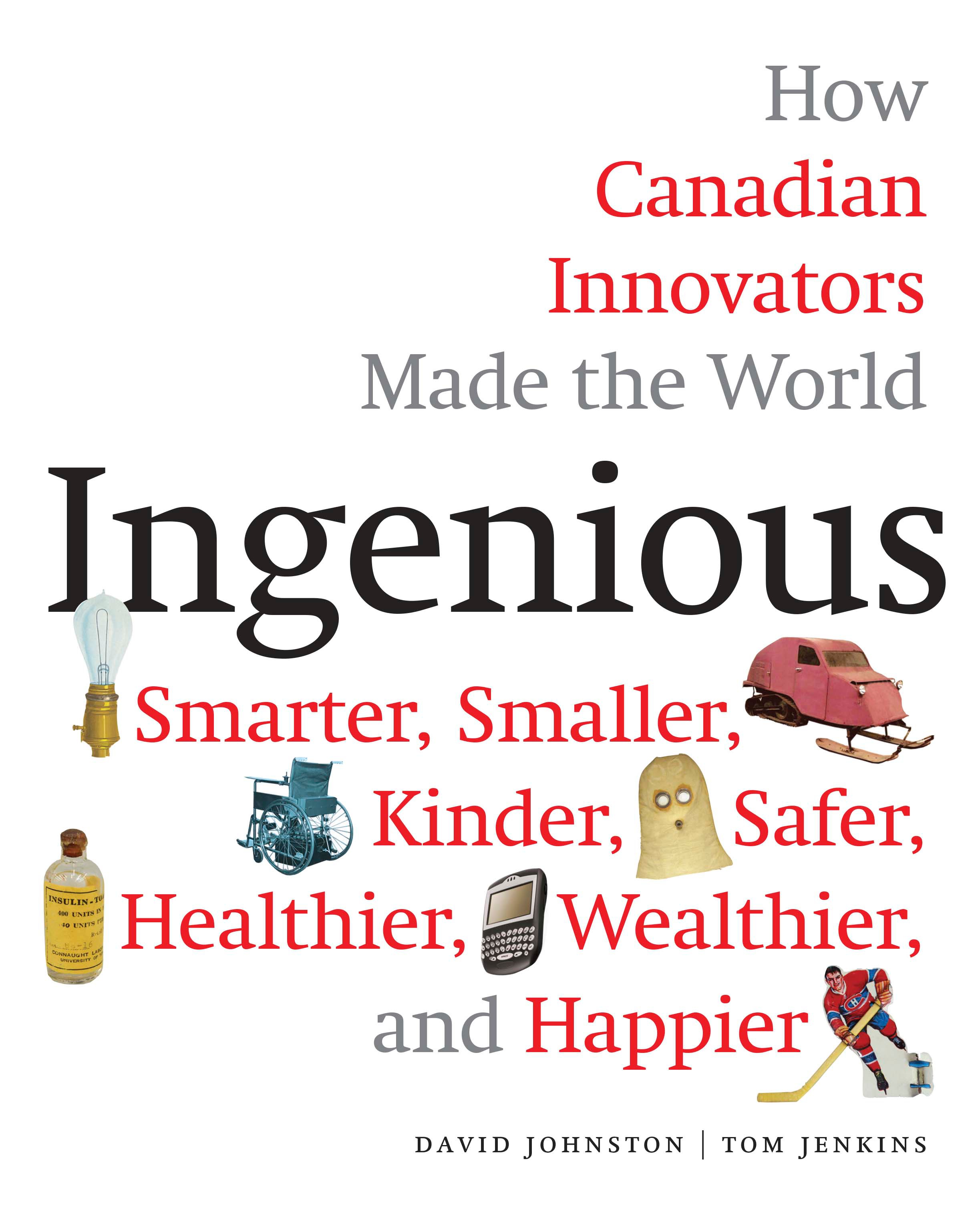 This fall I had the great privilege to continue this conversation with him by phone. Education is one of his core values, with too many academic awards and distinctions to list, as well as a deep respect for the profession with many teachers in his family. He told me with great feeling, "If we are to remember 3 words, it is to "cherish our teachers". Apart from our family they have the most important influence on the choices we make and the people we become."
For this very reason, I believe he was enthusiastic to participate in this interview below and share with our community of readers his views on how to support innovation @ your library and inspire students to make the world smarter, smaller, kinder, safer, healthier, wealthier, and happier.
1)     Ingenious and the companion title Innovation Nation are true celebrations of innovation in Canada. What inspired you and your co-author, Tom Jenkins, to write about this topic as well as a title aimed at students
Canada has a long tradition of welcoming new ideas and solutions and that has certainly been evident during this pandemic. Yet, we don't often celebrate our country's achievements in innovation. Tom and I wrote this book to celebrate the history and spirit of creativity in Canada and to inspire all Canadians to think of themselves as innovators. Many stories of innovation that most people may not realize originated in Canada (e.g., light bulb).
2)     Which book idea came first, or were they thought and written about simultaneously?
We started with the idea of creating a collection of innovation stories that illustrates the range and depth of innovations that Canadians have given the world. And let me tell you, it was difficult choosing the nearly 300 stories that went into the Ingenious book, which reflects how truly innovative Canadians are. The young readers' version, Innovation Nation, provides an introduction to 50 Canadian innovations that can be studied in the classroom in a variety of subject areas. Josh Holinaty provided the creative illustrations to appeal to a younger audience.
3)     What is your favourite innovation featured? Why?
Choosing from options that appear in both books:
Kinder: Declaration of Human Rights, Blue box recycling
Safer: Goalie Mask
Healthier: Insulin, Buckley's Mixture
Happier: Basketball, Maple Syrup
4)     Teaching students research skills is a key goal for Teacher Librarians. How did you and Tom Jenkins collaborate with experts to collect this comprehensive research and make your books a reality?
We gathered these innovation stories with help from colleagues in industry, government, community organizations, universities and colleges, national institutions, and of course from our circles of friends and family. Our partners in these books helped us to gather the facts for each story and even assisted with sourcing photos and images.
A few examples:
National Research Council
Canada Science and Technology Museum.
5)     As your books were published in 2017, how have you been promoting your message since and is there another title in the works?
The books were a starting point in a larger plan that would focus on strengthening our culture of innovation in Canada.
Back in 2016, we created the Governor General's Innovation Awards to recognize outstanding achievements in Canadian innovation annually. To date, 36 innovators and teams of innovators have received this award in a variety of fields – science, health, finance, community development, art, language preservation and so on. They have remarkable stories of their journeys that can be found on our web site.
In 2018, we held the first annual Canadian Innovation Week, which provides an opportunity each year in May to come together to celebrate and share stories of innovation. During the pandemic, this has been held on social media online reaching nearly 60 million impressions throughout the week.
We also worked with Edelman Canada to develop the first ever Culture of Innovation Index. And the most recent findings reveal important opportunities for Canada to build on unexpected outcomes from the pandemic.
It's heartening to see that Canadians continue to value innovation. In fact, 44% of Canadians want innovation to drive economic growth, up five percentage points compared to last year. Specifically, many see it as an engine for the common good, fueling not only economic growth but also healthier people and a cleaner environment.   
Canadians still lack exposure to stories of homegrown innovators and inventions. Nearly half say they don't hear stories about Canadian innovators and innovation in the media (47%) or at school (46%) – a challenge we must address if we're to inspire greater innovation moving forward.   
6)     Is there a recent innovation that you would want to include?
Highlighting innovations from pandemic:
Canadian Shield – Jeremy Hedges, an establish ed-tech innovator from Waterloo, recognized a need for PPE for healthcare workers early in the pandemic. With help from Waterloo's "barn raising" community, Jeremy's company has grown to become one of the largest manufacturers of medical-grade face shields and surgical masks in the country.
Vaccine Hunters Canada – A volunteer community, founded by Andrew Young, recognized that Canadians were having trouble booking vaccines. Back in March, they launched a Twitter account and quickly gained volunteers and contributors from coast to coast to coast to provide information on available vaccines in hundreds of communities. It is estimated that they have helped over 1 million Canadians get their vaccines.
7)     All proceeds from Ingenious are directed to the Rideau Hall Foundation. For those hearing about this charitable organization for the first time, kindly tell us more about it.
We established the Rideau Hall Foundation as an independent national charity in 2012 while I was Governor General. Simply put, the RHF is focused on building a better Canada by igniting our shared potential.  
While fully independent from the Office of the Governor General, the RHF was established to amplify the values of the institution of governor general: to connect, honour and inspire Canadians.
These priorities are reflected throughout RHF's four areas of activity:
LEARNING initiatives that strive for excellence and promote equality of educational opportunity - Catapult Canada, Queen Elizabeth Scholars, Indigenous Teachers Initiative 
Widening the circle of GIVING and volunteering - 30 Years of Giving research; Sovereign's Medal for Volunteers; Youth Volunteerism Initiative, GivingTuesday, WillPower 
Celebrating excellence in Canadian LEADERSHIP - building awareness about and commitment to the country's multi-faceted democracy through the Forum for Young Canadians, Michener Awards in Public Service Journalism 
Strengthening Canada's culture of INNOVATION - Governor General's Innovation Awards, Ingenious+, Canadian Innovation Week, the Arctic Inspiration Prize 
8)     How can educators and Teacher Librarians in particular best use your books as a tool and resource to inspire students of all ages?
We recently did some survey work at RHF looking at how best to engage and inspire students and one of the major findings, which I'm sure will not come as a surprise to your membership is that intermediaries and schools are critical. 

The research also confirmed that students want to see success stories. And specifically, students want to hear from people who have done exactly what they themselves want to do. (i.e.: if I am an aspiring video game designer, I want to meet and hear from a gaming entrepreneur or engineer.)  

While Tom and I were compiling the stories for the Ingenious books, we started working with Nipissing University's Faculty of Education to develop the Education for Innovation (E4I) teacher lessons plans. There are three resources guides: 1) Early Learning – Kindergarten, 2) Grades 1 to 8, and 3) Grades 7-12.

They use the innovation stories from Ingenious and Innovation Nation and walk the students through the innovation cycle in a practical way. At the end, students can create their own innovations to showcase to their parents and families.

The resource guides and are bilingual and available for free at CanadianInnovationSpace.ca  and teachers who have access to the Brightspace platform can download the E4I resources into it directly.
9)     What does it take to be an innovator today?
In the education field, the 5 C's of 21st century learning are often discussed and debated: collaboration, communication, creativity, and critical thinking, and curiosity. Tom Jenkins likes to add a 6th C: coding or computational thinking and I think we should add compassion to the list as that one makes sense now more than ever.
These are all competencies that we want young people to develop as they prepare for their futures, and especially if they aspire to become innovators.
10)  In your opinion, what is the best way to encourage Canadian youth to continue to make the world smarter, smaller, kinder, safer, healthier, wealthier, and happier?
To inspire the next generation of innovation, we want to make sure there is equity of access to opportunity. Youth need more than financial opportunity – we can ensure that they are connected with mentors to help them turn their ideas and solutions into innovations that will have a positive impact on the world.
It's one of the reasons that we are launching a new national youth innovation challenge program, called Ingenious+. We want to encourage high school students from coast to coast to coast to share their innovations by applying to receive up to $10,000 in cash as well as mentorship opportunities. We're working with JA Canada and their network of regional charters to launch the program in mid-October at ingeniousplus.ca and there will be regional and national awards in spring 2022. 
Related Articles View All
Teachers on Call tutoring team has selected 5 video games with an environmental science focus
Liking STEM activities is the first step towards children learning to excel in them
Teachers on Call has prepared a list of different March break camp options near you.