Online Tutoring

Teachers on Call provides a personalized online tutoring approach to accommodate the educational needs of students in Ontario and across Canada. 
What is Online Tutoring?
Online tutoring at Teachers on Call allows students anywhere in Ontario and throughout Canada to access our award-winning educational support from their computers or electronic devices. This essentially means that the very best match for educational goals and personality fit can be selected for your child as your tutor doesn't have to live near you, and online tutoring sessions can happen anywhere the student is – be it at your home, local library, or even the cottage.
Our online tutoring services provide the same high-quality support and adhere to our signature relationship-based approach as our traditional in-person tutoring services.
Online Tutoring During COVID-19
Teachers on Call is dedicated to ensuring the safety and wellbeing of our students, tutors and families during the COVID-19 Pandemic. To this end, we are currently offering online tutoring exclusively, with all in-person tutoring on hold for the time being. We will continue to seek guidance from medical experts and will communicate any updates related to the safe resumption of our home tutoring services.
Covering All Subjects & Grades
Teachers on Call offers online tutoring for elementary and high-school students from grades K-12 in all subjects, including Math, Science, English, French, Reading & Writing skills and more. In addition to subject-specific guidance, our tutors continue to provide academic coaching in the areas of executive functioning, time management, organization and study skills support based on academic needs and goals.
Learning is supported by a variety of interactive communications technologies that will be beneficial to students as they advance academically, as well as in their future career pathways.
Provided By Education Professionals
Our tutors are caring, knowledgeable and experienced education professionals, with a passion for helping students succeed academically.
The Teachers on Call team follows a curriculum-based approach. As a result, our team is comprised exclusively of teachers certified by the governing body for education in their province, retired teachers, and teacher candidates completing their degrees in education. All of our tutors have direct classroom experience and are highly specialized in their subject areas.
As with traditional home tutoring, tutors and students are paired based on a thorough assessment process to ensure they are an optimal match in terms of subject matter needs, educational goals and personality fit.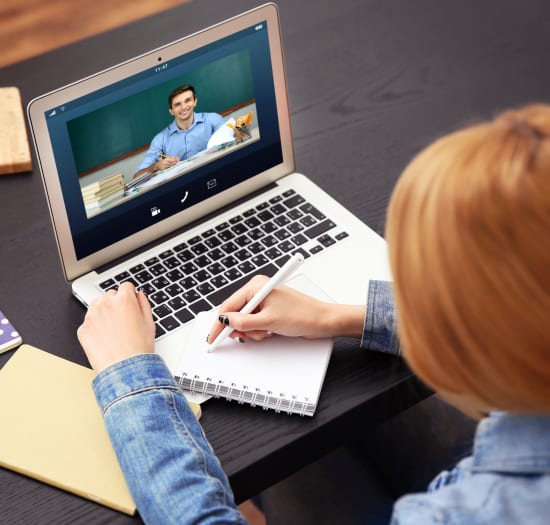 Our Online Tutoring Approach
At Teachers on Call, our many years of experience helping children of all ages has taught us that students learn best with educators they trust, and who understand their unique learning needs, style and interests. For this reason, a tailored approach to tutoring is fundamental to the Teachers on Call customer service philosophy, whether that tutoring happens in person or virtually.
This means that our online tutoring service is based on our signature relationship-based focus, ensuring your child will work with the same tutor for all sessions to ensure a strong level of comfort and familiarity.
How It Works
Online tutoring with Teachers on Call starts with the same comprehensive intake process as our conventional in-home lessons.
This initial consultation is designed to determine each student's specific academic needs to ensure they are matched with a tutor whose skill set and personality would be most beneficial to them.
Online tutoring includes many interactive features to promote learning and engagement, such as an online whiteboard, interactive video and sound communication, and screen sharing for resources and materials. We will ensure that the student has a good handle on how these software tools work at the outset.
Effective Learning in a Digital Age
Digital literacy needs to be taught and practiced, just like any other kind of literacy. The advantage that students who do online tutoring have is that they get to learn and practice these digital skills safely and with some guidance. 
Our online tutors collaborate with students to help them solve problems, practice critical thinking, and use a variety of technological learning tools to excel in their chosen subjects. Students will master the concepts and strategies necessary to thrive in a world where education is increasingly taking place online.
Learning through online tutoring allows students to practice many of the skills they need for their current courses and for future career pathways in a cooperative learning environment with their tutor. They can practice screen sharing, using digital tools, and even evaluating online resources.
This will allow students to build confidence and independence for their classroom learning and assessments, and can improve their attitude and experiences at school.
Benefits of Online Tutoring
Flexible Sessions
With our online tutoring services, Teachers on Call is able to reach and support students throughout Ontario and Canada! 
Tutoring sessions are flexible with 30-minute minimums, especially popular with young primary learners with fixed attention spans, and older students looking for extra help in between scheduled sessions for challenging subjects.
With online tutoring, we are able to expertly pair your child with the perfect tutor based on individual needs and goals, choosing from our robust team of knowledgeable and engaging tutors.
Convenient Scheduling
To take advantage of online tutoring, all you need is a computer or laptop, and a solid internet connection. As many families have already discovered, online tutoring is extremely convenient. Scheduling is based on your family's preferred availability, giving you the most flexibility for busy calendars filled with appointments and extracurricular activities. 
Online tutoring provides students with convenient access to educational support from almost anywhere, including during vacations, weekend trips to the cottage, illness, or inclement weather. This makes it easier for students to stay connected with their tutor and on track in their learning.
Social Distancing
Online tutoring provides students with all the benefits of our personalized, one-on-one tutoring services in a safe and socially distanced context.

With online tutoring, the entire tutoring process happens virtually with video conference and screen sharing software. You can take comfort in knowing that these sessions are held remotely, protecting vulnerable family members and keeping everyone healthy in these times, all while continuing to provide our high standard of service.
Looking for a tutor?
We are here to help your student excel. Contact Teachers on Call today to get started with our award-winning tutoring services.