Hooked on Books

At Teachers on Call, we believe in making learning fun, engaging and memorable for students and the adults who love them. Outside of school, we know families and educators are interested in ideas to continue learning and encourage reading for students. We developed our popular Hooked on Books series for this very reason, to instill a natural curiosity and love of literacy with the help of Canadian books and creators!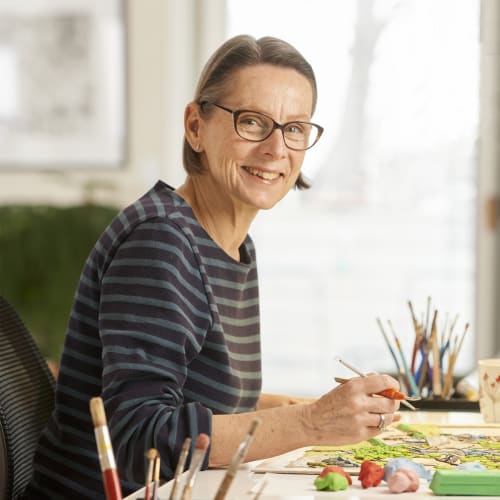 What is Hooked on Books?
Our team at Teachers on Call loves to read and encourage students and their families to do the same. With Hooked on Books, we introduce our community to the latest Canadian books with a behind the scenes interview to learn more.
A large focus is introducing readers to children's authors and illustrators across Ontario and coast to coast from new voices to recognized names. We are big believers in reading role models, so also include titles for grown-up readers too. As a bonus, look out for related book giveaways on our social media channels with author videos announcing the winners!
Hooked on Books Authors & Illustrators
Since our debut of our Hooked on Books series, we have had the privilege to spotlight a variety of emerging and well-known literary talent throughout Canada for readers of all ages. We have profiled Barbara Reid (left), Chris Ferrie, Vikki VanSickle and Julie Cole, just to name a few.
Our in-person and online tutors love to read, attend literary festivals, and lead programs, so we are always on the hunt for the latest books that students will be excited to read!
Does your child need reading support? We can help.
Our knowledgeable tutors offer personalized reading and writing support for elementary and secondary students.
Reading Tutoring for Students
Feedback we often hear from families is that teaching your own child how to read can be challenging and stressful for students in kindergarten, primary and junior grades. Good news! Supporting students at various literacy levels is one of our tutoring specialties. 
Through one-on-one personalized tutoring, Teachers on Call offers a customized and welcoming approach to match the learning needs, reading level and academic goals for each individual student. Our in-person and online tutors utilize their teaching expertise to support reluctant readers, encourage independent reading, as well as guide literacy enrichment with engaging activities, games and resources.
Benefits of Recreational Reading
Inspiring a love of reading is a common goal shared by families and teachers alike. We also understand this can be a challenging task for students to pick up a book independently.
The Teachers on Call team believes in promoting reading for pleasure, as there are known academic and social benefits for young people to read regularly and voluntarily.
Educational advantages include performing strongly in school, building vocabulary and language skills, as well as enhancing worldviews. We hope to accomplish all these goals and more through this series and have a lot of fun along the way. Happy Reading!
Photo credits to Alea Marley, Illustrator from This Is Ruby (Tundra Books) and Barbara Reid, Illustrator & Author of Canadian children's books
The Hooked on Books Blog
Check out our blog to learn more about our book series, and get ideas to help students progress with reading and writing skills. 
---
This Hooked on Books series features author/illustrator, Peggy Collins, covering the topics of courage, autism and neurodivergence.
This Hooked on Books series features author Lily Chu to introduce her book The Comeback, with famous Toronto landmarks, new hotspots, and an introduction to Korean popular music (K-pop).
This Hooked on Books series features author / illustrator Jason Li to get his take on this unique and creative methodology to learn the Chinese Language through the The Hanmoji Handbook.
---
Looking for a tutor?
We are here to help your student excel. Contact Teachers on Call today to get started with our award-winning tutoring services.