There are many great STEM activities and science experiments for kids.  Here are some kid-friendly science experiments with spring and Mother's Day coming up.
There are hundreds and thousands of STEM activities and science experiments online for kids. Some of them are particularly great, and many of them can be crafty projects for kids on rainy days. With spring and Mother's Day coming up, we've got some kid-friendly science experiments that involve flowers for you to have fun with!
The best science experiments are the ones that get children to ask the question 'why does this happen?' If they're asking why something happens, looking for answers, and experimenting more to see if they can repeat or change the outcome, then congratulations! You have a wonderful science experiment.
Have fun with these ones!
Coloured Flowers
Did you know that even professional florists use this technique to make beautifully coloured flowers? For this experiment you'll need:
White cut flowers like carnations or roses
Cups or vases
Water
Food colouring
Add water to your cup or vase, add a few drops of food colouring, and freshly cut the stem ends of the flowers. Place them in the cup of coloured water, and watch how over the matter of hours, your white flower will take on the shade! Within 24 hours, you should have a lovely tint that would never happen in the wild.
Questions to ask/ Concepts to study:
How long did it take for colour to begin showing in the petals?
How does the water get drawn up into the bloom?
Do you think this experiment also works on a piece of celery? Why or why not? (Give it a try!)
Tie-dye Flowers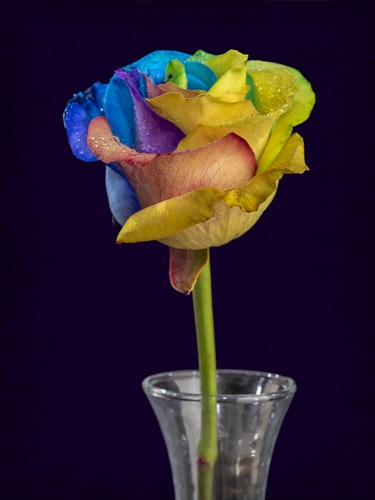 If you enjoyed the single-colour experiment, did you know that you can produce a tie-dye effect? It's absolutely possible! Let your child put their noggins to work after the first experiment, trying to figure out how this might be accomplished.
Then, help them split the stem into two or three parts, and carefully place a piece of the stem in separate puddles of water. The flower will need extra support, so you may have to build a contraption to hold it and the different shades of water… which is a fun experiment in and of itself!
Coffee Filter Flowers
Unlike normal cut flowers, these will last a lot longer! There are many online activities for coffee filter flowers just like this one: How To Make Coffee Filter Flowers. Go ahead and pick out whichever one you like best! But you will for sure need:
White coffee filters
Pipe cleaners
Markers, food colouring, or whatever other colouring material that your recipe suggests.
Make your bouquet! And then ask these questions:
Is there a similarity between making coffee filter flowers and dyeing a real flower?
Why or why not?
What does your child think causes the colouring to wick through the coffee filter?
Related Articles View All
Teachers on Call tutoring team has selected 5 video games with an environmental science focus
Liking STEM activities is the first step towards children learning to excel in them
Teachers on Call has prepared a list of different March break camp options near you.