Volunteerism is a core value for our team at Teachers on Call. In fact, many of us give back to the community in our free time, in addition to professional commitments tutoring and teaching students.
We also realize it is important to encourage volunteerism among our youth. There are numerous benefits of getting involved from a young age, however, community service is also a graduation requirement for high-school students to receive their Ontario Secondary School Diploma.
Right now, there is a lot of confusion now around this community involvement requirement amongst educators and teenagers, as well as how to find safe and meaningful volunteer opportunities. For these reasons we reached out to Volunteer Toronto, a charity whose mission is to connect volunteers to deserving causes in need of support. Teachers on Call also has a personal connection to this special organization. Several members of our team have been recognized with their Legacy Awards for volunteering for non-profit organizations such as The Corsage Project, Children's Aid Foundation of Canada and Working Women Community Centre just to highlight a few.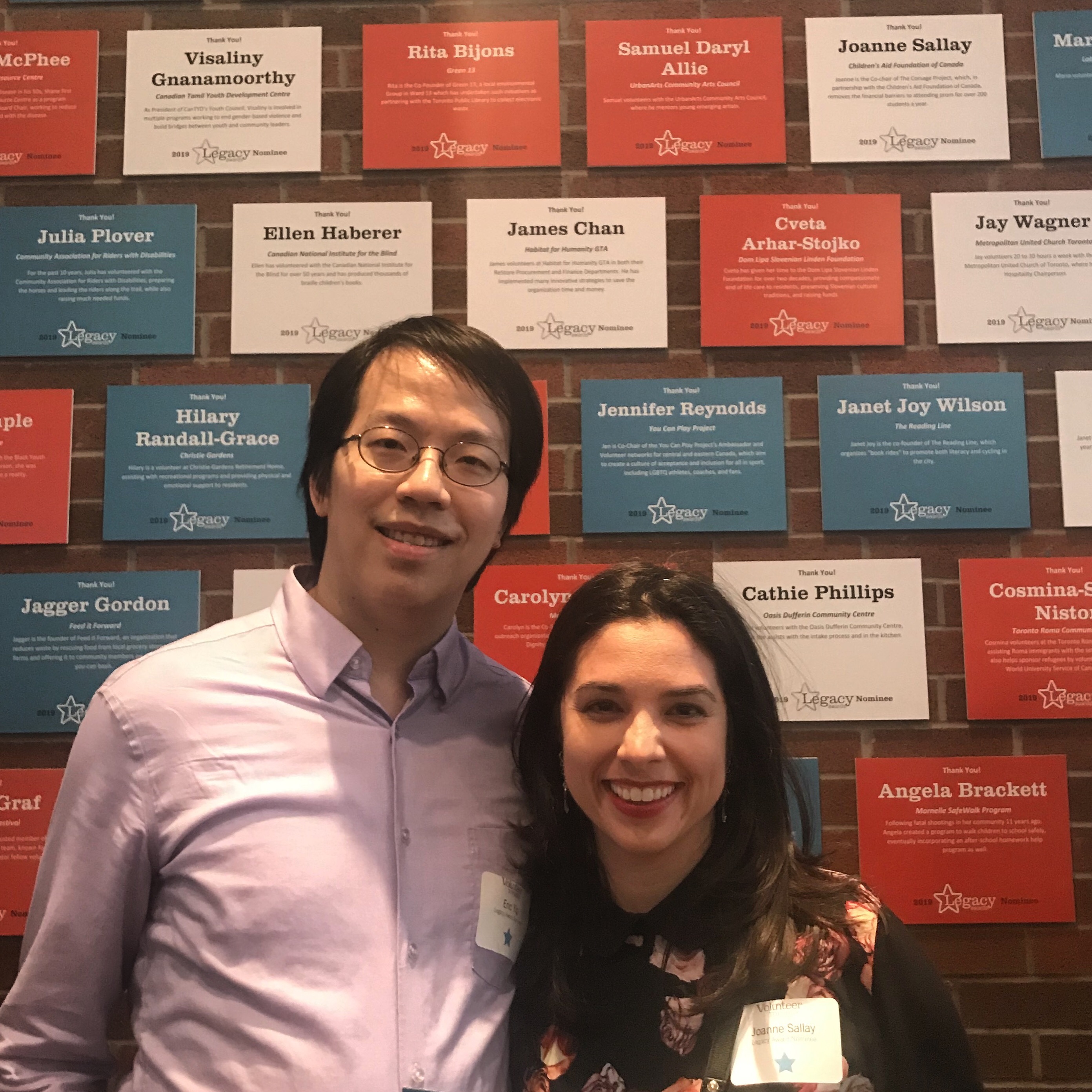 The Teachers on Call team at the 2019 Legacy Awards Reception at the Toronto Reference Library. Our President, Joanne Sallay, and tutor, Eric, were recognized for their volunteerism in the community.


To learn more about virtual volunteerism and gain insights on how youth can find positions during the pandemic, we interviewed Kasandra James, Manager of Programs. You will not want to miss the information, so read on!
1) The Ontario Ministry of Education has a community involvement requirement in place for students to graduate. How has this changed throughout the pandemic for students to receive their Ontario Secondary School Diploma?
Since start of the pandemic, the Ontario Ministry of Education has made adjustments to the community involvement hours required to graduate from high school. Last year, the requirement was completely waived for Grade 12 students. This year, students are required to complete 20 hours, instead of the traditional 40 in order to graduate with their OSSD.
Another important consideration is that school boards interpret this requirement from the Ministry independently, and create their own definition for what qualifies as a "community involvement activity". Since the pandemic, most school boards have been open and flexible about these definitions, and virtual volunteering is at the top of the list as a safe way to accumulate the required hours. However, students should always verify the eligibility of their volunteer activity with their guidance department.
2) Many volunteer roles that have typically been open to youth are not currently available. How are non-profit organizations and charities adapting to the new environment?
At the start of the pandemic, a majority of non-profit organizations either closed volunteer programs completely or moved programs online. This included many places where high school students often volunteer, such as arts organizations, long-term care homes, hospitals and peer youth programs. A year into living with COVID-19, some organizations still don't allow volunteers to participate (e.g. hospitals and long-term care homes) but some have re-started programs in smaller groups and many have gone online or remote.
For example, a culture organization in Toronto created new virtual conversation circles for newcomers with volunteer support. Many tutoring and mentoring organizations are currently running 100% virtual programs that allow volunteers to continue to give back and stay connected while staying safe. For many organizations that engage with seniors, volunteers can now pick up the phone to give them a call once a week, or help seniors learn to navigate video technology so that they can stay connected to their family and friends. The possibilities for remote and virtual roles continue to expand as organizations continue to adapt existing programs and create new exciting ones.
3) What types of activities can teenagers engage in virtually to support their community? Which groups are currently recruiting youth for volunteer service opportunities?
There are many opportunities for high school students to get involved in virtual volunteering. Some of the most popular roles that organizations are recruiting youth for include:
Peer Mentor
Peer Tutor
Social Media Volunteer
Digital Content Creator
There are also many youth-led community organizations that are looking for high school students to take on leadership roles to help move their missions forward.
4) From your perspective what are the pros and cons of virtual vs. in-person volunteering?
I think the major advantage that in-person volunteering has over virtual is the value of the in-person connection. As human beings who want to help and be connected to each other, virtual volunteering can be isolating and add to the screen fatigue that many of us have been facing – including teens who are also tackling online school this year.
However, virtual volunteering does have its perks. In a city and region as big as Toronto and the GTA, travel is a major barrier for youth trying to volunteer. With virtual volunteering, getting to a volunteer opportunity can be as simple as clicking a Zoom link. This means that youth can now volunteer with organizations that are geographically far away. A high school student in Richmond Hill can sign in for a shift at Harbourfront Centre without having to navigate the Go Train and the TTC to get to the waterfront. That same volunteer could tutor someone out in Vancouver the very next day!
5) How can students connect with Volunteer Toronto to find out about volunteer opportunities?
As Canada's largest volunteer centre, with over 45 years' experience connecting volunteers to causes that need them, Volunteer Toronto is the number one place to find both virtual and in-person volunteer opportunities in Toronto. Visit us at www.volunteertoronto.ca, and click on "Search Opportunities". High school students can filter their volunteer search using the category "1. Suitable for Youth (14 – 17)".
If you need help navigating the Volunteer Toronto website or learning more about volunteering in general, you can Book an Appointment to speak with a Volunteer Advisor or contact us at advisors@volunteertoronto.ca or 416-961-6888 x 232.
Related Articles View All
Teachers on Call shares advice on learning coding concepts and programming languages for future career paths.
Teachers on Call has prepared this report card guide to demystify the process for families.
Teachers on Call has assembled the 2024 Forest of Reading nominated titles into one easy list to support literacy.