Reading and literacy are essential skills at any age. And yet many studies show that when students struggle with reading early on, they continue to struggle. There are many ways you as a parent can help your child develop a love of reading, and if you have a struggling reader, you can help turn that around! Our Teachers on Call online English tutors want to help your kids love reading! Read how!
1) Understand Where They Are with Reading
In Elementary grades, teachers do regular reading assessments with kids. But often on report cards parents are told how their kids are reading with comments like your child is "progressing well" or "progressing with difficulty". It can be difficult to understand what that means! Knowing where your child is in reading is not just important for their success at school, but also so you can help find the right level of reading to practice at home. Practice makes for happy, successful readers!
There are many sites where you can do a free reading assessment with your child. Teachers on Call recommends Oxford Owl. Oxford has a quick online test you can do with your child here. It's best for ages 4-8, but can give you some good ideas for the questions to ask older kids too: https://home.oxfordowl.co.uk/reading/reading-schemes-oxford-levels/which-reading-level-stage/
They also offer a sample reading at each level so you can pick one that you think may be right and read with your child: https://home.oxfordowl.co.uk/reading/reading-schemes-oxford-levels/
Once you have picked a level that you think is suitable, have your child read a page or two out loud to you. A general rule is there should be two-to-four new words on the page, words that your child might have to sound out or pause to work out. If they read every word easily, you can probably go up a level. If there are more than four challenging words, go down a level. Keep repeating that levelling up or down until you find the passage that hits that two-to-four word mark. Reading is a skill like building a muscle, you want to keep challenging it but not have it feel like work or make you stretch so far you don't want to do it again.
2) Know How to find Books at their Level
Now that you know the approximate reading level for your child, the next challenge is to find the right books! Publishers use many different levelling systems and it can be difficult to figure out which book is at which level. Here you can find a really handy chart that lists the books by various levelling systems and the corresponding grade. You can also access this graphic from Scholastic Books at this link.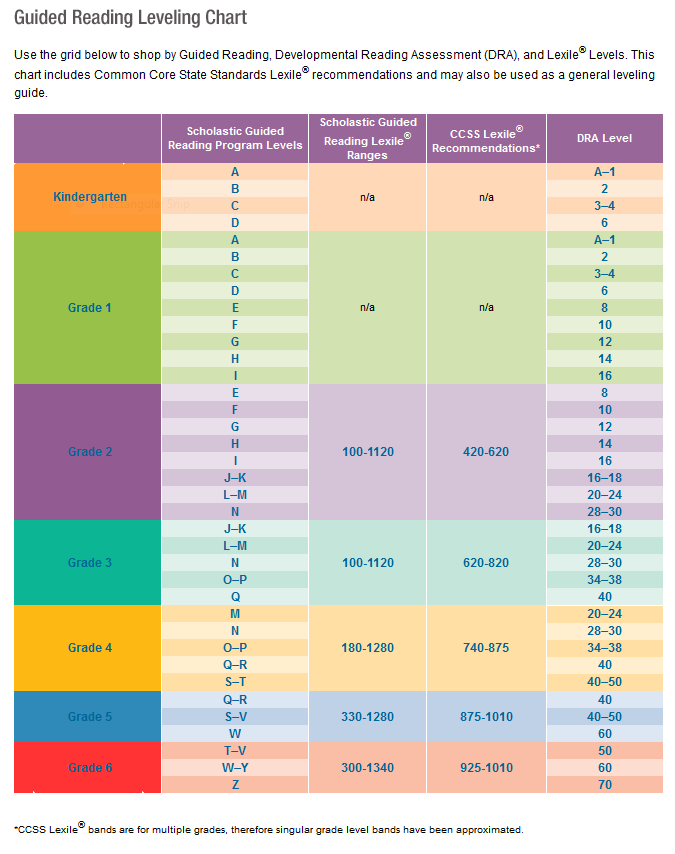 3) Find the Books!
Obviously, you can order from a bookstore, but it can be hard to find the reading level when you order.
Here are a few great sites recommended by our Teachers on Call online English tutors (and they're free!):
We love this site with our online tutoring! Tutors and Teachers can create free accounts and add your child to them. Parents can try a free 30-day trial and then subscribe. Epic Books is like Netflix for books. It offers selections based on grade, reading level, and interests. You can "favourite" the books, and each time you read something it works like that Netflix algorithm to suggest books they think you will like. There are many popular series, read alouds, audio books, and learning videos. Their levelling system is DRA (Developmental Reading Assessment) which is what many elementary schools use. It's a great system because there are multiple levels within a grade level. Students can progress through smaller levels and gain confidence as readers.
This site has great books listed by level and grade. You can sign up for a 14-day free trial. During that trial you can download multiple books at the right level, as PDFs and printables. They also have both fiction and nonfiction.
Newsela is a great site for all ages. Newsela takes current news stories and levels them for multiple grades. They have elementary and secondary content and they add new content every day. You can sign up for a free trial.
4) Check for Understanding!
Remember that reading is not just about the level, it's also about being engaged with the books, and being able to talk about what you've read.
What to Do as You Read
Have your child read out loud with you. Twenty minutes a day is ideal but any time you can give is great. It's important for readers not just to read the words but also to practice their comprehension. After reading, ask your child to tell you what the story was about, to describe one character, and to identify one problem that was solved. If they can't answer much about the story, the vocab may be too difficult so go down a level.
Here are some free printables from one of our online English tutors with questions you can ask and writing practice to help teach your child important comprehension practice.
5) Encouraging a Love of Reading is just as Important as Practicing it
a) Finding the right book isn't just about the right level, it's also about finding a book your child likes! We all know when we are interested in something, we're more likely to stick with it. One great type of book to try out at any age is a Graphic Novel.
Graphic Novels and comics are great for new and/or struggling readers because they can practice the words but also get clues from the pictures. Here are some top series recommended by our online English tutors:
For kids Grades K-2:
Elephant and Piggie, Mo Willems
Jelly and Narwhal, Ben Clanton
Kids Grades 2-5:
Captain Underpants and Dogman, Dav Pilkey
The Bad Guys, Aaron Blabey
Kids Grades 4-6:
Smile (and many others), Raina Telgemeier
Amulet, Kazu Kibuishi
Want more ideas? Check out this list from Toronto Public Library, or this list from Scholastic. Scholastic also has loads of free printables to go with their series.
b) Kids of all ages love being read to (so do grown-ups, think audiobooks!). Storyline Online has celebrities reading books and talking about why they chose them. They update their list every month!
No matter what age you are, the more you read, the better you read, and the better you read, the more you will love it. Happy reading!
Related Articles View All
Teachers on Call has assembled the 2024 Forest of Reading nominated titles into one easy list to support literacy.
Movies and films provide an opportunity to elevate student learning and well-being in and outside of the classroom.
This Hooked on Books series features author/illustrator, Peggy Collins, covering the topics of courage, autism and neurodivergence.