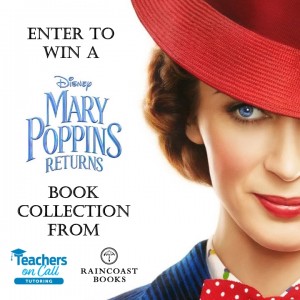 Winter can be a magical time of year, and like many, you may have been drawn to the theatre over winter break to catch the new star-studded Mary Poppins Returns to celebrate a little bit of magic for yourself and create some excellent learning opportunities!
The nostalgia factor is strong for adults, which is no doubt why a whole new generation of fresh adaptations of the original 1934 novel by P.L. Travers were inspired. We are confident that these books will delight fans and introduce a new generation of young readers to the most famous nanny of all time.
Grab one of these books for your collection to go along with the theatre experience as part of a plan to make reading fun and interactive! There is much to discuss and compare for some excellent teachable moments both at home and in the classroom environment.
Written by P.L. Travers, Illustrated by Geneviève Godbout, Adapted by Amy Novesky
For ages: 4 – 7 
This adaptation is the perfect way to introduce Mary Poppins to little learners who are not ready for more advanced reading. This book does an excellent job of capturing the adventures of the Banks children in a condensed format, and it's beautifully illustrated by Canadian illustrator Geneviève Godbout from Montreal, Quebec.
Mary Poppins (Illustrated Gift Edition)
Written by P.L. Travers, Illustrated by Júlia Sardà
For ages: 10 – 12
This lovely keepsake gift edition features the classic Mary Poppins chapter book with stunning new illustrations. Readers follow Michael and Jane Banks as their nanny takes them on magical journeys that include an upside-down tea party and a night-time visit to the zoo.
Mary Poppins Returns (Deluxe Novelization)
By Walt Disney Pictures, Adapted by Kathy McCullough
For ages: 8 - 12
Admirers of the Disney film will not want to miss this! This book is the middle-grade edition novelization of the film, an entirely new sequel following a grown Michael and Jane Banks. Their former nanny returns to 17 Cherry Tree Lane to look after Michael's very own children.
To celebrate the magic and wonder of Mary Poppins, Raincoast Books is giving away these three adaptations (approximate value $75)! To win, just enter the contest below! We'll be drawing the winner on January 17, 2019. Good luck!
Contest is open to Ontario residents only.