The search is on for gifts to express appreciation for your child's teacher and the important work they do. Supplies are one thing that's always welcome – they're practical and useful gifts that can save a teacher money and provide a lot of fun for the class. If you want to give teacher more of a "treat" that they get to enjoy for themselves, we can help you with that, too!
Here are some ideas to help make it easy to find the perfect gift. Be sure to include your kids in the process of shopping! If you're thinking of supplies, not only is it fun for them to select the items they want to use, they have expert knowledge on what is needed… and they may know some of your teacher's likes and hobbies to help give a gift a personal touch.
Desk Items "Just for Teacher"
Pads of paper, pens, and pencils are items that always seem to disappear. Quality equipment (such as staplers) are also worth their weight in gold! Stationary is great for all the nice notes teachers like to write and send home. A chic desk organizer is something every teacher can appreciate – either on its own, or a creative "gift basket" for the other items you may want to gift!
Sophisticated Treats for the Classroom
If parents are pooling resources for a group gift, there are often costly supplies that are usually out of budget. STEM toys and games, electronics, books, and specialty paints are enjoyable for kids and teachers alike and can be purchased in group gift situations.
Personalized Items
If your child's teacher has everything already, consider personalized items including notepads, adult labels, and stamps with custom impressions like "Good Job! - Ms. Smith."
Little Luxuries for Teacher
Easy-to-care-for plants for the classroom, their favourite tea or hot chocolate mix for breaktime, funny signs for their desk, a pleasant hand lotion to keep in their drawer for winter-dry hands… the possibilities are endless!
Arts and Crafts Materials
Things like crayons, glue sticks and construction paper may not seem exciting, but these resources are used daily for lessons and activities – and teachers use more of them than you may think!
The Trusty Gift Card
Gift cards are easy to coordinate for a joint gift and guarantees the perfect choice, especially if you don't know the type of pens – or wine – they prefer!
Don't forget to have fun with the presentation. You can make gift baskets with a caddy, tote, or desk organizer as the base. Or perhaps try assembling your gift in the shape of a snowflake or tree to capture the spirit of the winter season!
Most importantly, don't forget to include a thank you card with personalized note from you and your child; these are treasured keepsakes!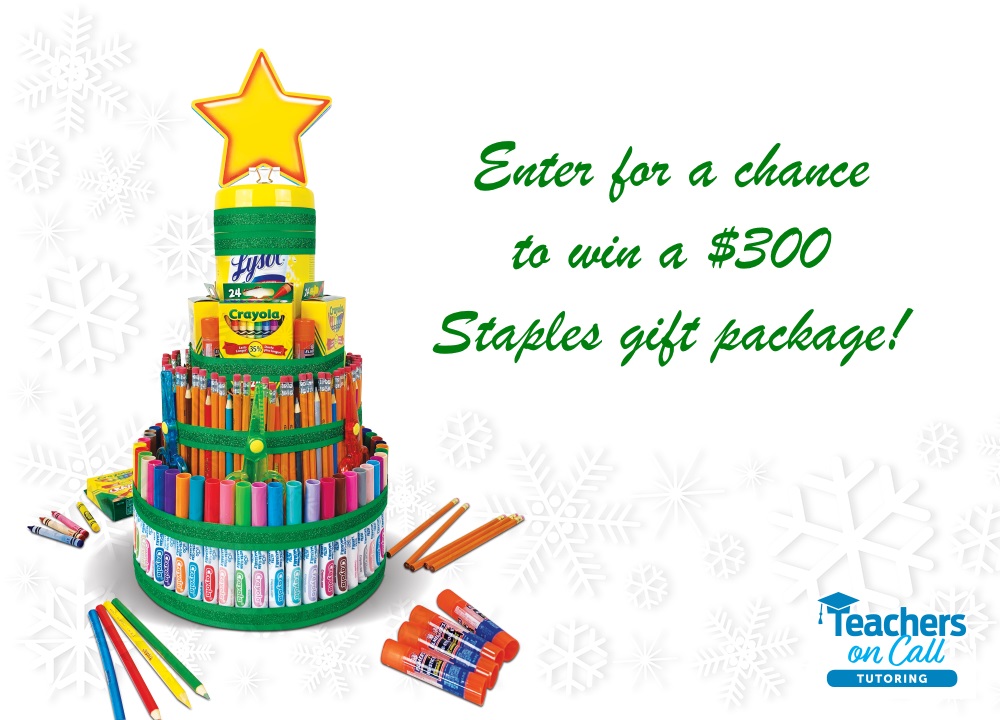 To make your shopping easier this season, we're pleased to partner with Staples to give away school supplies and a $250 Staples Gift Card (total value, $300). Enter via the contest below! We'll be drawing the winner on December 7, 2018. Good luck!
Contest is open to Ontario residents only.