Returning to school after months away is a big transition for students in all grades, but the road back doesn't have to be bumpy. Our tutors shared six easy to implement tips that'll prepare you and your child for the best back-to-school ever:
Adapt your family's routine: Transitioning to school is easier when preparations begin in advance. Adjust bedtimes and family routines at least two weeks before the bell rings. Talk about why these changes are happening so your child understands it's about healthy routines and setting up everyone for success.
Set goals: Sit down with your child and review June's report card. Together make goals for the upcoming school year and consider any additional academic support or tutoring they may require.
Create a dedicated homework area: Organize a homework space that's quiet, has a comfortable chair, and good lighting. Keep it stocked with papers, pencils, sharpeners, erasers and any other supplies needed.
Make a family command centre: The school year is smoother when papers are organized, and dates are in view. Consider a bin with each family member's name on it. Place a calendar on the wall and leave a space for the school year calendar and any classroom calendars that come home. This may be the perfect place to dock personal electronics too.
Begin with books: Ease back-to-school jitters and evoke feelings of excitement with the help of school-themed books. Visit the library or bookstore to get some books about school, moving, making friends or even about bullying. Books give children the words to express their emotions and will help open up meaningful conversations between your and your child. 
Before bed routine: Mornings are much less stressful when things are packed the night before. As part of their pre-bed routine, ask your child to organize their knapsack with everything they need for school the next day—refer to the family command centre calendar to know what's needed. This step will help eliminate forgotten library books, signed notes, and running shoes. 
If you love back-to-school shopping as much as we do, you'll love this fun giveaway! Our friends at Staples and Raincoast Books are gifting one lucky Teachers on Call fan a back-to-school prize pack.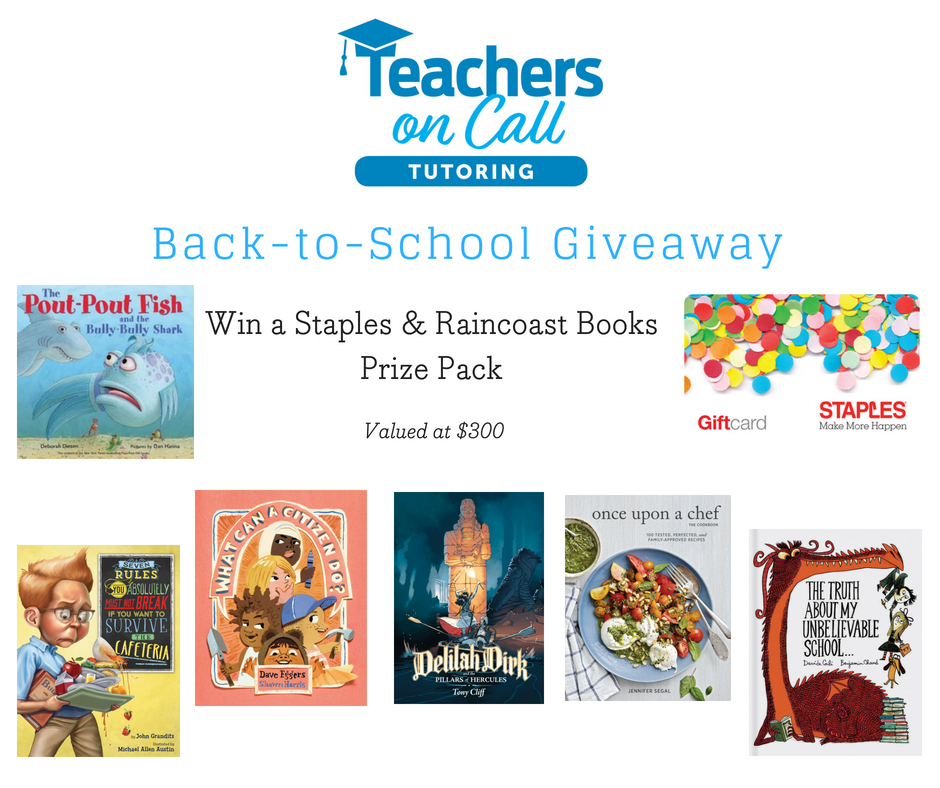 Staples is gifting the winner a $100 Staples gift card and select school supplies. 
Raincoast Books is gifting the winner six books! Once Upon a Chef, The Truth About My Unbelievable School, What Can a Citizen Do?, The Pout-Pout Fish and the Bully Bully Shark, Delilah Dirk and the Pillars of Hercules, and Seven Rules You Absolutely Must Not Break if you want to Survive the Cafeteria
Entering is simple. You can win the Staples and Raincoast Books prize pack by entering below! We'll announce the winner on August 27th.
Contest is open to Ontario residents only.