After a long summer away from the classroom, the shift to back-to-school can be a stressful time for families. It's tricky to change pace and step back into a routine, but a smooth transition is achievable through planning, talking with children about their feelings, and of course, shopping for essential supplies.
Here are 4 of the latest school trends that will get everyone in the family prepared for a successful school year.
Litterless Lunches
Reusable containers continue to rule for back to school lunches. Families who choose to use eco-friendly lunch containers have so many choices that are great for the environment and their wallets.  Among our favourites are colourful lunch totes, stainless steel insulated water bottles, and bento boxes that make packing healthy lunches simple.
Supplies with a social conscious
Staples carries ME to WE school supplies which are perfect for the socially minded child, letting them see the educational impact of each purpose using a unique tracking code. This collection includes binders, lunch bags, and backpacks.
Canadian-themed products
Canada's big birthday isn't over yet! Students can continue to celebrate Canada 150 all through the school year. Staples has patriotic products including animal and lumber jack 150th-anniversary pencil pouches,  Hilroy moose themed planners, and Merangue Canada beaver pens.
Tech tools that rule
Technology in the classroom is here to stay with schools embracing STEM learning, Makerspaces, and some even adopting bring your own device programs. There are so many neat tech tools and apps that support student learning, but one of our current favourites is Tile, the personal item tracker. Students can use it for locating all their lunch boxes, sports gear and even cell phones.
What's more, fun that shopping for back to school?  A giveaway from Staples for a back-to-school product bag, valued at approximately $300, full of the coolest trends and essential supplies PLUS a $50 Staples gift card.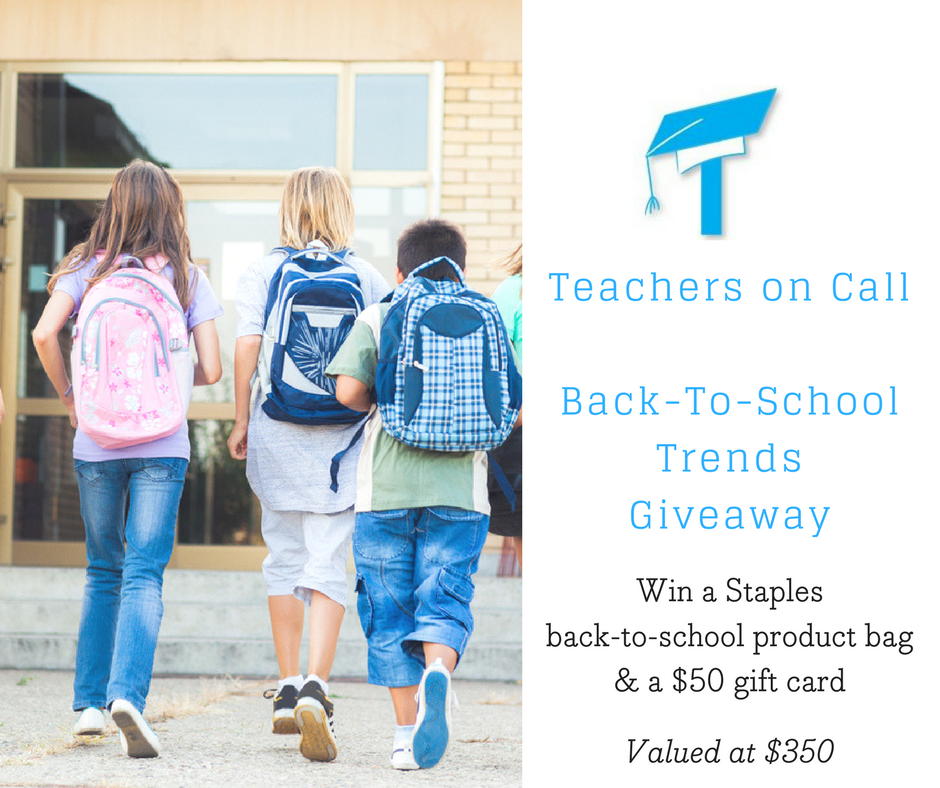 The bag will include over 25 items including: Maxwell Action Kids Headphones, Whoosh webcam cover, Avery Emoji Binder, Merangue Emoji Pen, Sistema Ice Rod and Snack Attack Container, Elmers Slime Glue Set, Mr. Sketch Scented Markers, Staedtler Wopex Eco-Friendly Pencils, Crayola Doodle Scents Markers, Staples 2 Port Wall Charger and much, much more!
Entering is simple. You can win the Staples back-to-school package and gift card by entering below! We'll announce the winner on August 25th.