Parents love giving teachers gifts at the end of the school year or right before winter break. World Teachers' Day is on October 5th, however, and even though it's very early in the school year, we believe that this is a wonderful time to show your appreciation in advance with a gift for the classroom or for the school community. We'll explain why!

One thing all parents can agree on… teachers do a lot, and it's a lot of work to be a teacher! The second thing a lot of parents can agree on… choosing a gift that is both needed and appropriately shows your true appreciation can be hard. Like, really hard. A funny mug is wonderful, but what if half the class brings one?

So, an early gift might be the greatest time to solve that dilemma. Why? Because the unfortunate truth is that many hardworking teachers buy supplies for their classrooms out of their own pockets at the start of and throughout the school year. World Teachers' Day is a great time to both help the classroom and show your appreciation by buying a gift they really, truly need.
Check the syllabus first for easy mode!
Assuming your child hasn't lost it at the bottom of their school bags (we might be speaking from experience here), many classroom teachers do send home a short brief during the first week. Many teachers include a list of items they always need and would love to have donated.
If you've found that list, great! You know exactly what your teacher needs and wants. Shopping will be a breeze!
If not, that's fine too! We've checked with our in-person and online tutoring team (who also happen to be teachers), and we've pulled together some great ideas for classroom contributions:
Cleaning Supplies
If you have a child in elementary school, cleaning supplies are likely at the top of your teacher's wish list. Every class needs things to keep the room clean and sanitary … every sniffle is going to get passed around! If lunch is eaten in the classroom, things can get messy, too. Either way, cleaning materials will never be a bad choice.
In fact, there is a way to get your school started for free with the Lysol HERE for Healthy Schools program in partnership with Staples Canada. Educators, administrators and parents of children in Kindergarten, Grade 1 and Grade 2, can sign up to request a Welcome Back Pack filled with Lysol wipes, learning materials, stamps and stickers for an entire class. Teachers on Call's tutoring team previewed the kit and donated the resources to a school where some of our tutors teach (our in-person and online tutors are professional certified teachers). Our president did try out the healthy habit activities at home, and her 6-year-old had a great time placing the germ stickers on the toilet (true story). So definitely worth signing up!
Here are some of the top donation requests in this category:
Boxes of tissues
Paper towels
Napkins
Hand sanitizer
All-purpose cleaner
Disinfecting and/or cleaning wipes
Sponges
Traditional Arts & Crafts Materials
Believe it or not, many of these items are used in classrooms well beyond Kindergarten and primary grades. In fact, Play-Doh was a donation request from a teacher in Grade 5! So be sure not to neglect this list even though your children might be a little older.
Play-Doh and plasticine
Sharpies
Glue sticks
Safety scissors and rulers
Crayons, markers, and coloured pencils
Construction paper
Washable paints and brushes
Paper bags
Regular School Supplies
Of course, you can't go wrong with a gift basket of these handy items that teachers use all the time.
Duo-Tangs and folders
Pens, highlighters, and pencils
Erasers
Stationary (to write notes home on)
Dry erasers and dry erase markers
Storage bins and carts
Personalized stamps and labels (would any list like this be complete without Mabel's Labels? No, we didn't think so either.)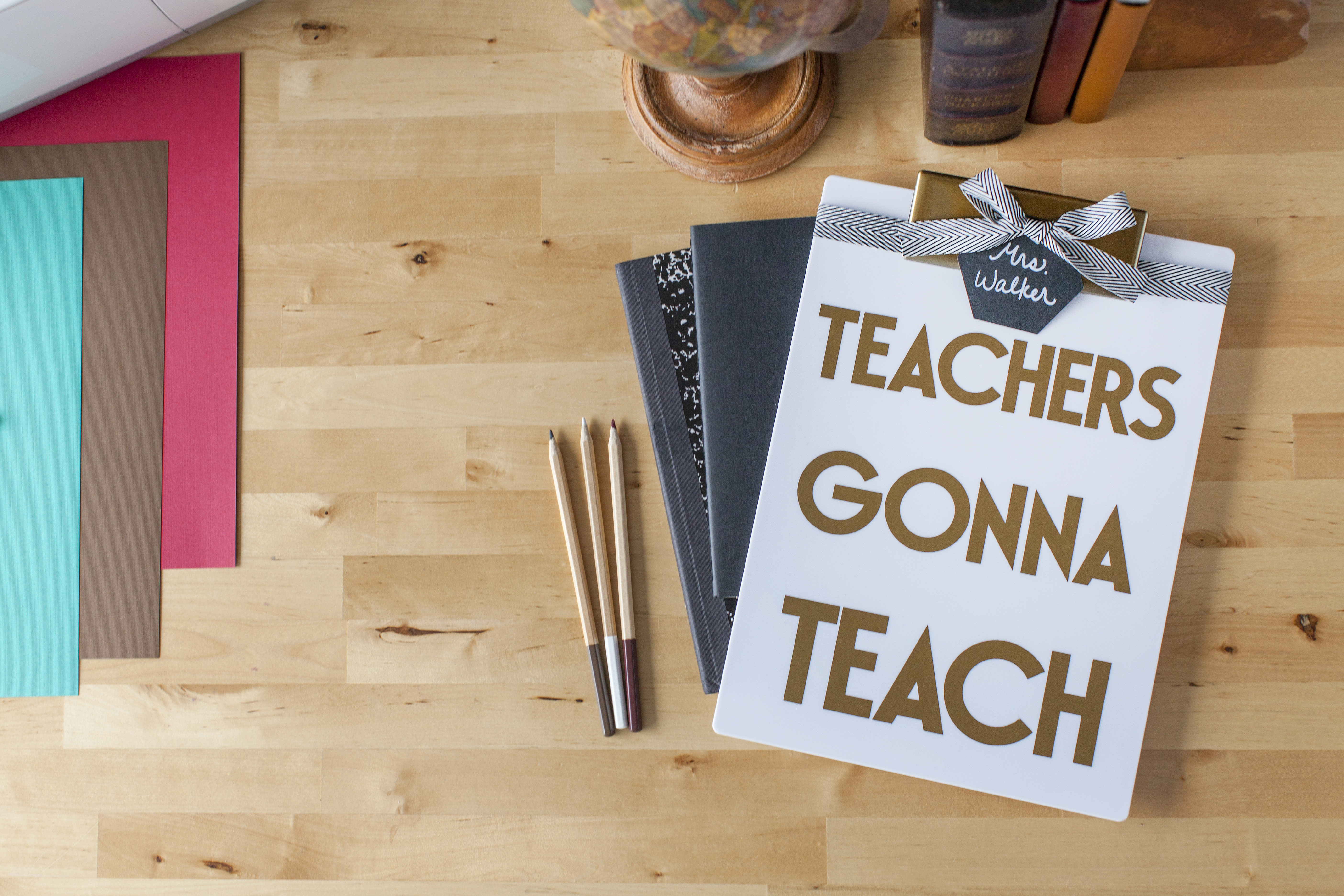 Books for the Class Library
Naturally, books are always a great gift! They can be a little more intimidating to try to buy appropriately. Never fear, you can always check out Teachers on Call's Hooked on Books blogs for inspiration.  Many educational book sites have a very handy feature… you can sort by grade level or age! Several will have curated lists that come along with teacher guides showing how the picture and chapter books are connected to the curriculum. Here are some places to shop for books and ideas:
Health and Physical Education Equipment
Every physical education teacher and coach will tell you that they can always use more gym equipment. However, there may be a limit on what kinds of items they need or what they're allowed to accept. It's always best to check before donating these kinds of items, as there may be equipment that can't be accepted for liability reasons – or because the school may have a limited place to store them.
Class 'Party' Items
These materials are great for birthdays, holidays, and special themed days (Terry Fox Walkathon and Halloween are popular for fall). They can also double as STEM learning, crafting, and fun resources!
Balloons
Paper plates
Stickers
Die cut shapes and paper rolls
Project letters
Coloured pipe cleaners
Bubbles
Glitter and sequins
A Gift to Pay it Forward!
There are a couple ways to pay it forward, and if your school has some big goals in mind, one of the best gifts you could give is fundraising help – either by joining parent council fundraising or helping facilitate student council fundraising.

On a more individual level, it's sad to think about, but many children come to school without items that they need because of financial hardships at home. A decent backpack may be one of the first items that a child will go without. A gift bookbag is something that can be distributed to a student in need, and is perfect and thoughtful. Many groups including local businesses, non-profit organizations and school boards will host backpack and school supply drives. Here's what you'll need:
A backpack
A lunchbox container
A new, reusable water bottle
A few school supplies like pens & pencils
Consider Donating Outgrown Items and Recycling Used Electronics
The classroom is a great place to donate items that your child may have outgrown. Not only does this help the teacher, it also ensures that loved and cherished items go to find more use (and organizes your home)! We ask that if you're donating used items, please courteously ensure they are clean and in good repair before bringing them to teachers or the front office for distribution to appropriate classrooms.

Here's a list of items that are wonderful to donate previously and gently used to a local school:
LEGOs and DUPLOs (even if they're coming from incomplete sets)
Wooden and low-count puzzles
Busy boards
Flash sight-reading and other learning cards
Board and early reader books, especially in another language (like French)!
As we've said earlier, many local school boards have rules about accepting technology. However, most universities have programs that accept used tech like laptops and tablets to help financially deserving students! The government also runs a program in Ontario through a charitable organization - RCT (Renewed Computer Technology) - to help provide technology for training and empowerment.
Large-Ticket Items and Tools
Almost everything on this list so far is suitable for individual donations. However, if you're looking for a group idea, there are a couple of large-ticket items that make great options for a teacher gift from the whole class, or to fundraise for the school on behalf of a wider parent and caregiver community.
A book, audiobook, or podcast membership – Subscription services for books, audiobooks, and podcasts can be great, but they are not inexpensive. A 3- or 6-month subscription gift card to one of these services might be the perfect treat for teacher… and it could potentially provide some side benefits in the classroom!
Large storage items – Crafts and such need places to store them! If your classroom is struggling with organization, new bookcases, cubbies, or racks will be appreciated for a long, long time.
A Cricut Machine – Cricut machines are THE hottest new DIY tech for the classroom, as it allows the teacher to use one of thousands of ready-to-make projects – or create their own.  It is a coveted big-ticket item by both elementary and secondary teachers given the variety of uses. We gave away a Cricut last year, and teachers across the country told us exactly how they'd put it to use!
Our winner last year was nominated three times and teaches at J.R. Wilcox Community School in the Toronto District School Board. She shared her Cricut bundle with her teacher colleagues to engage in many school initiatives. Just to name one project from this elementary school, they used the stencil feature on their Cricut to make their own Grade 8 graduation t-shirts, which resulted in significant cost savings. They designed it together as a class, then made the cutouts for painting the shirts. A great way to involve students in the creative process.
The Cricut is an incredibly versatile machine, can be purchased at a variety of retailers including Cricut.com, Staples, Walmart, Michaels, Costco, and Indigo. Here are a few of the types of projects one can make with it:
Before and after school drink set
Classroom storage tower
Unicorn backpack
Alphabet wall border
A+ teacher card
Desk organizers
Cricut Giveaway for World Teachers' Day
In fact, the Cricut giveaway last year was SO popular, we've partnered together again to give away another appreciation prize for World Teachers' Day! This year, we're giving away a Cricut Joy Xtra Machine + Materials Bundle worth an estimated $400+.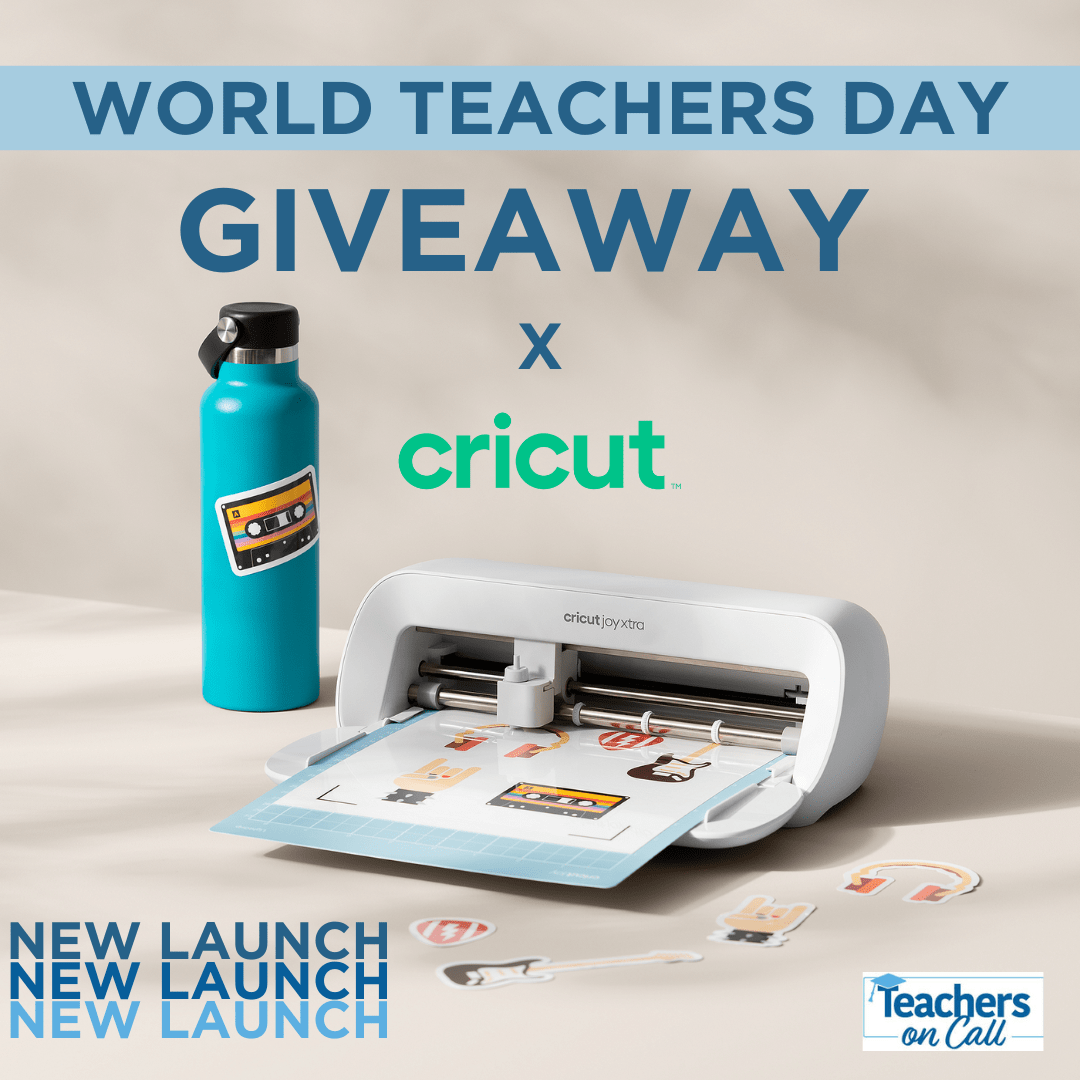 The Teachers on Call tutoring team had a chance to preview it and were impressed by the compact size which makes it easy to share and transport from class to class. It doesn't matter if you consider yourself crafty and creative. The Cricut Joy Xtra is designed specifically with beginners in mind, aiming to simplify and revolutionize DIY endeavors with lots of premade patterns.
Here's what's in the Cricut Prize Bundle:
Cricut Joy Xtra Machine
Starter Tool Kit and Cutting Mat
Cricut Joy Xtra Smart vinyl and Iron-on vinyl
Cricut Joy Xtra Transfer Tape
Blank Cosmetic Bags
NEW Materials including

Cricut Joy Xtra Printable - Sticker Paper
Cricut Joy Xtra Printable - Waterproof Sticker Paper
Cricut Joy Xtra Printable - Vinyl
Cricut Joy Xtra Sticker Iron On - Light Fabrics
Cricut Joy Xtra Sticker Iron On - Dark Fabrics
Cricut Joy Xtra Smart Label Sheet
Contest details: Open to residents of Canada, ages 18 and over (excluding Quebec). This promotion is in no way sponsored, endorsed or administered by, or associated with Meta. Prize must be shipped to a Canadian school in the name of a teacher. Approximate value $400+ Contest ends at 23:59 ET on October 13th. A winner will be selected by random draw.  Please note: We will never ask anyone for financial information and you should not engage with other accounts other than the official Cricut Canada and Teachers on Call pages.
Whatever your plans may be for showing your teacher appreciation, we hope we have given you some wonderful ideas for World Teachers' Day. 
---
Our contest is officially closed. Thank you to everyone who entered. You can see some great ideas that were shared with us on how to use the Cricut in the classroom on our Facebook page!
Related Articles View All
Teachers on Call shares advice on learning coding concepts and programming languages for future career paths.
Teachers on Call has prepared this report card guide to demystify the process for families.
Teachers on Call has assembled the 2024 Forest of Reading nominated titles into one easy list to support literacy.