Online Tutoring

Teachers on Call is dedicated to providing a personalized online tutoring approach to accommodate your needs. 
What is Online Tutoring?
Online tutoring allows students the convenience to access support from their computer or electronic device.
Covering All Subjects and Grades
Teachers on Call offers online tutoring for elementary and high-school students from K-12 in all subjects and grades, including core subjects of Math, Science, English, Social Science and French.
Our Online Tutoring Approach
As with in-person tutoring, we continue to offer our signature relationship-based one-on-one personalized support. Our approach to online tutoring offers many interactive features including an online whiteboard, interactive video and sound communication, and screen sharing for resources and materials.
Teachers on Call does the same comprehensive intake to assess each student's academic needs for online tutoring as our conventional in-home lessons. 
Students have the option to supplement face-to-face tutoring with online sessions as needed, or engage in the online platform entirely.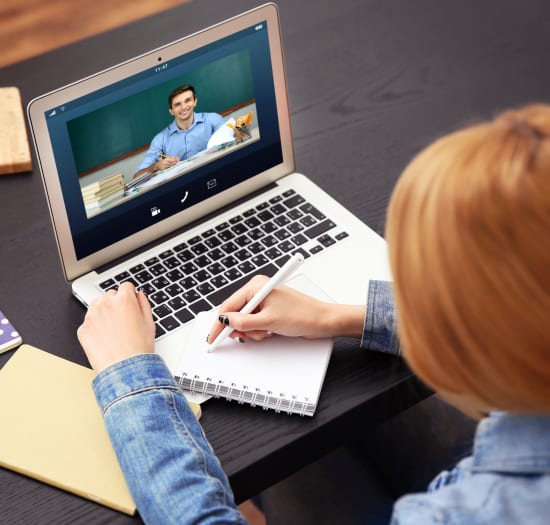 Benefits of Online Tutoring
We understand that student schedules are busier than ever. Online tutoring provides a convenient solution when traditional home tutoring is not possible.
A blended tutoring option is preferred by some students who want to continue with their consistent tutor online during specific situations when sessions would normally be re-scheduled, ie. vacations, weekend trips to the cottage or winter home, illness, or poor weather.
Online support provides a convenient and flexible option to continue supporting students.
Looking for a tutor?
We are here to help your student excel. Contact Teachers on Call today to get started with our award-winning tutoring services.